Summer Library Program 2020:
Sumner Public Library: Summer Library Program Registration (Pre-K through 7th)
StoryTime will continue to be LIVE on the Library's Facebook Page at 10:00AM every Wednesday. The Summer Library Program will run from June 17 to July 29. "Take & Make" kits will be available every other week and will include supplies for the following 2 weeks. How-To videos will be posted weekly on Wednesdays, to go along with the "Take & Make" kits.
Pick up weeks will be: June 15, June 29, & July 13. Kits will include craft materials, instructions, reading log sheets, puzzles, and activities all based around the 2020 Collaborative Summer Library Program theme "Imagine Your Story". Final Prize drawing will be Wednesday, June 29th. (More information on prize drawing entries to come later.)
The Library is taking extra care in ensuring all materials handed out, and the area kits are picked up, are as safe as possible. Registrants will set up a time with the library to pick up their materials. Videos will be posted weekly with instructions for all activities. No internet access? No problem! Written instructions with photos will be included in the kits as well!
Participants are encouraged to register by 5:00PM on June 12th.
Adults and teens (8th grade +) are encouraged to register here: https://tinyurl.com/y9lozgmz
Parents/Guardians can register kids (pre-k to 7th) here: https://tinyurl.com/ya5cl4wc
Anyone can also call the library (563)578-3324 to register as well.
1000 Books Before Kindergarten!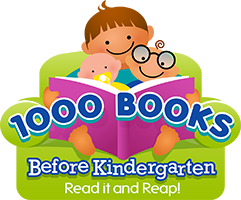 Sumner Public Library's 1,000 Books Before Kindergarten program is a fun, exciting, and free way to start your child on the path to success! Any child ages birth to five years can participate. Just follow these steps:
1. Register: Sign up at circulation counter and pick up your program materials.
2. Track Your Reading: Fill in a circle for each book you read with your child on your reading record.
3. Every Book Counts: Even if your child wants to hear the same book again and again, you can count it each time. You can also count the books your child hears in storytime, in daycare or preschool, or with a friend or family member, as long as your child listens to the entire book.
4. 100-Book Milestones: Each time you read 100 books, bring your reading record and your child, to the library, to receive a special reward. Take home a new reading record for your next 100 books.
5. 1,000 Books: You did it! Come celebrate at the library, see your child's name placed on the 1,000 Book Wall of Fame, and receive a free book.
6. Keep on Reading: Don't stop at 1,000! Keep on reading together; there's more learning ahead!
Singing songs, saying rhymes, telling stories, and playing with your child are all great ways to build their literacy skills. Visit the Sumner Public Library often for free programs that are fun and educational for your little one and to find great books to share with your child.
One thousand books may seem like a lot, but if you read just one book a night, you'll meet your goal in less than 3 years. If you read three books a night, you could reach your goal in just one year! Ask our friendly staff for suggestions—we're here to help you on your journey to 1,000 Books Before Kindergarten!
Happy Reading!